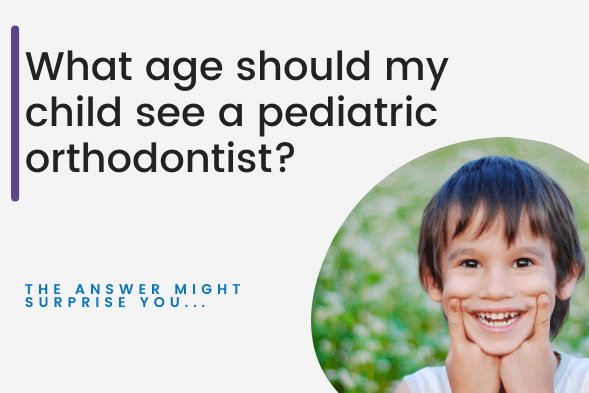 Many people are surprised to find out that pediatric orthodontists are even a thing. Pediatric dentists, sure, but an orthodontist for kids? If you're like most in Phoenix and the rest of the United States, teens and pre-teens are what usually come to mind first when you think orthodontists.
It makes sense, then, that it can be confusing to know exactly when the right time is for your child to see an orthodontist. You might be surprised to hear that the best answer is quite a bit different than what commonly comes to mind.
The American Association of Orthodontists recommends a check-up with an orthodontist for children no later than age 7.
Age 7 isn't random – there are very important reasons for your child's immediate and long-term health to see an orthodontist by age 7. We're going to share them with you here.
When you're done reading this you'll know…
the purpose of orthodontic treatment
What makes it matter for your child
Why seeing an orthodontist by age 7 is so important
Plus – we'll share the 1 thing that makes every kid excited to visit Dickerson Orthodontics (Excited to visit an orthodontist?? Kids!? Yep, you heard that right. Keep reading!)
We believe in the importance of seeing the orthodontist for your child so deeply that we've made all initial consultations completely free for your child.
You get peace of mind and confidence that your child is growing healthy at no cost to your wallet. It's our gift to you and your kids. Because we believe every child deserves a winning smile.
The Purpose of Orthodontic Treatment
What is orthodontic treatment? Orthodontics is the science of applying very small forces to your teeth in order to realign them in your mouth, straighten your teeth, and get you a winning smile.
There are multiple different methods of orthodontic treatment, and you are probably familiar with at least a couple of the popular ones: braces and clear aligners (like Invisalign). The purpose of all these methods is to create healthy, aligned teeth and a functional (and attractive) bite for you or your child.
But it's far more than merely practical and attractive. When your jaw and teeth line up properly, it leads to good oral health and positive physical health overall.
Owning your winning smile is a signal of the more important benefits of oral health and positive well-being. And that's why it's so important that your child see a pediatric orthodontist by age 7.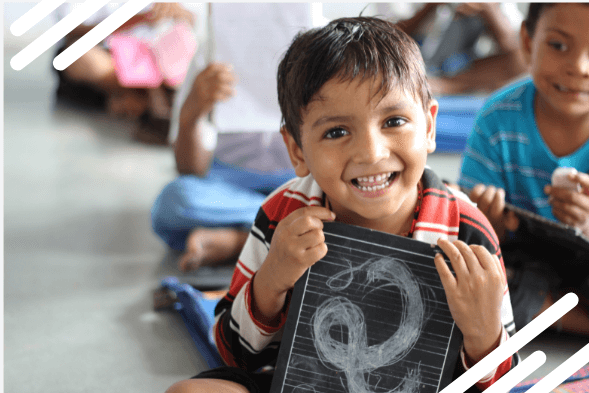 Why Age 7 is the Right Time to See a Pediatric Orthodontist
There are a lot of reasons why your child should see a pediatric orthodontist by age 7 – both short and long term. Here are some of the biggest ones.
Enough adult teeth are in by age 7
It's actually best if your child still has some baby teeth the first time they see an orthodontist. The mix of baby teeth with adult teeth provides expert pediatric orthodontists with a wealth of information that might not exist if you wait for all your child's adult teeth to come in.
Subtle issues are easier to catch with some baby teeth
The transition from baby teeth to adult teeth is a time of a lot of moving, shifting, and shaping in your child's mouth. It's a time when small issues can really show themselves. And an ideal time for an orthodontist to help your child's smile grow strong and healthy.
If a problem exists or is beginning to develop with jaw growth or emerging adult teeth, your orthodontist can catch it here and advise you on how to proceed.
Treatment isn't always necessary immediately. But you'll be sure to give your child the best chance at a healthy smile and save yourself from extra hassle and costs later in their life.
Problems are easier to address if you catch them early
If you wait for all your child's adult teeth to come in, problems may become much more difficult (and expensive) to address. Their mouth has had more time to develop in undesirable ways and problems have had more time to grow.
In fact, some things are impossible to accomplish once their face and jaw have stopped growing.
Avoid time working against you. Get time on your side when you meet an expert early to see your child's teeth. You have nothing to lose and may save your child from a massive amount of future problems.
Check-Ups are separate from treatment
There's a difference between a check-up with a pediatric orthodontist and actually starting orthodontic treatment. Often, treatment isn't required immediately for children.
There are only a few orthodontic issues that require correction around age 7. But catching these problems early is extremely important because it determines the final outcome.
We often use a 'wait-and-see' approach with our young patients, and simply follow up on your child's teeth growth and development at the appropriate time.
How Pediatric Orthodontist Check-Ups Get You Ahead
Here's the truth: teeth don't get straighter the older you grow. It's far more likely for your child's teeth to be less straight as time goes by rather than more. As adult teeth come in, the space available for permanent teeth in your child's mouth shrinks.
Here's something else that surprises a lot of people: most orthodontic issues are actually inherited. Yes, we can all rattle off the popular ways that issues develop – poor dental hygiene, excessive thumb or pacifier sucking, mouth breathing, dental diseases – but it's just as likely, if not more, that your child may have an inherited issue.
Even if you've done your best to avoid all the tell-tale ways issues may develop with your children, seeing a pediatric orthodontic expert is the only way you can be confident you know what's going in with your child's growth.
Here's an additional list of things from the American Association of Orthodontists that early check-ups with an orthodontist may give you a chance to address:
Guide jaw growth
Lower the risk of trauma to protruded front teeth
Correct harmful oral habits
Improve appearance
Guide permanent teeth into a favorable position
Improve the way lips meet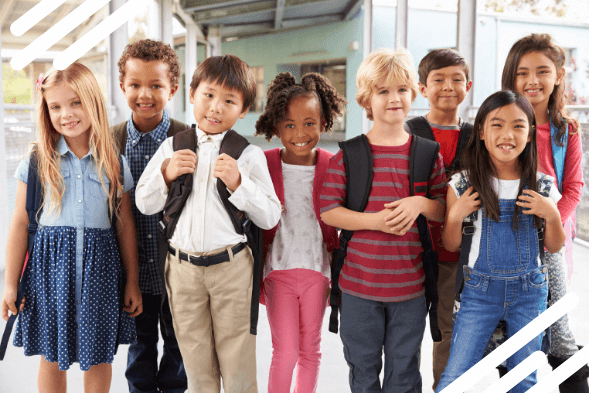 What to Expect in Your Pediatric Orthodontist Check-Up
At Dickerson Orthodontists, we're committed to helping you and your kids get winning smiles that last. Great smiles are so much easier to get when you're young (cheaper and faster, too).
We have decades of experience in helping kids develop great smiles and healthy teeth habits, and enjoy doing it! Getting serious care from an orthodontist doesn't have to be like pulling teeth.
That's exactly what you and your child will experience in your free initial consultation – simple, clear descriptions, gentle methods, easy language your kids can understand, and proven techniques that get results.
You'll get 1-on-1 care from Dr. Todd Dickerson and our amazing team. We will take orthodontic specific records to be able to evaluate and track your growth. Having these records for comparison can save you a huge amount of future trouble, including surgery.
During your free consult, Dr. Dickerson will check on how your child's smile is growing and developing. You'll get clear answers about what he sees and coaching for how to build healthy habits.
Dr. Dickerson is a world-leading expert on orthodontics and orthodontic treatment and has lectured around the world on both topics. So you'll be getting world-class care and guidance without even having to leave the Greater Phoenix area.
Trust your child with an expert that other orthodontists trust.
You'll have everything you need to avoid big, long-term concerns that will cost you more time, appointments, and money if you had caught them later. More importantly, you'll walk away confident in your child's growth and development.
Conclusion
Getting a free initial consultation for your child with a pediatric orthodontist at age 7 is the very best way to promote healthy, straight teeth for your child and ensure they grow up with a winning smile.
Get peace of mind that your child's teeth are growing straight and healthy. Save yourself (and them!) potentially tons in costs and time later in life by getting a simple free check-up today. It won't cost you a dime, and you'll walk away confidently with the answers of an expert.
And when you visit our Phoenix, Peoria, Scottsdale, or Chandler locations of Dickerson Orthodontists, your kids will enjoy the one thing that makes all our young patients excited to visit: frozen yogurt to go!
Get your free consultation at Dickerson Orthodontics today.