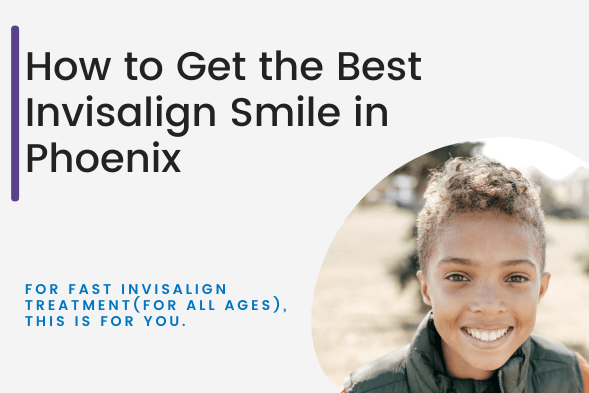 If you're looking to find the best Invisalign provider in Phoenix for fast smile results, we wrote this for you.
Since you want winning results fast, we'll keep this short.
Here are the 3 things to focus on when choosing an orthodontist in Phoenix for the best Invisalign results fast:
A doctor who can get you fast results
A place that reduces your appointments (that's right, we said reduces your appointments!)
A personalized Invisalign plan where you change aligners based on your individual case.
How To Get The Best Invisalign In Phoenix?
Here's more detail on each one (plus a bonus factor you won't want to miss).
OrthoPulse
One way to get faster results that will literally save you months – even over a year – in treatment is to include OrthoPulse in your treatment.
OrthoPulse is a small orthodontic device that uses gentle light therapy (known as photobiomodulation) to speed up your tooth movement and reduce your discomfort at the same time. This light wave therapy is used in nearly all areas of medicine to the great benefit of patients.
It only takes 10 minutes a day, you can do it from anywhere, and it's proven in studies to help you finish Invisalign treatment in half the time it would take at an average orthodontist.
Patients who use OrthoPulse with us consistently see results 2x faster than average, and it can be even more. Every case is different, so we offer free consultations so you know exactly what to expect before you even pay a penny.
OrthoPulse is sure to accelerate how quickly you see your best Invisalign smile. A big added bonus is that it will also decrease the amount of pain and pressure you feel during treatment.
Fewer Appointments & Personalized Aligner Changes
We'll break these down for you one at a time.
Fewer Appointments
Here's some quick math to show you just how many appointments many Invisalign patients are forced to sit through.
Most practices have patients return between every 4-10 weeks for follow-up appointments.
Average Invisalign treatment for standard cases in the U.S. is typically 22-24 months – almost 2 years.
If you have a short treatment – a year and a half – that can still be up to 18 visits. And that's for a short treatment.
At Dickerson Orthodontics, many of the Invisalign appointments are 12-14 weeks apart without any reduction in progress or quality.
That's at least ½ the number of appointments you might be forced to endure at other places and might be even 3x fewer. Find an orthodontist in Phoenix who saves you this much time with your teeth straightening.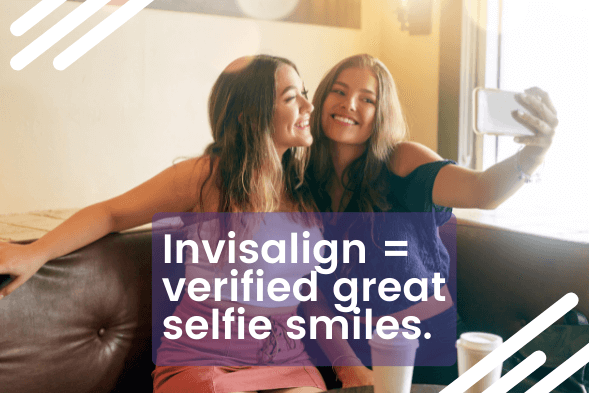 Personalized Aligner Change Rate
Many orthodontic practices use a standardized cookie-cutter approach for when to change your aligners. But the reality is that not everyone is the same. Your smile and needs are completely unique to you. So your aligner changes should be too!
Each set of aligners is slightly different and causes a small amount of movement toward your final goal. Different people require different treatment approaches.
Some problems are easier to correct than others. Some people have teeth that move faster than others. Everyone is unique and Dickerson Orthodontics takes advantage of that uniqueness to move teeth as fast as possible for your individual case.
Aligner Intervals
Invisalign treatment uses a series of aligners that gently shift your teeth over time. As your teeth move to fit your aligners, you switch to the next set of aligners which move your teeth a little more.
Standard Invisalign treatment often involves 40 sets of aligners or more. The typical traditional time between switching sets of aligners is 7-14 days. That's what most doctors will give you as the average time for aligner intervals.
Many patients accept this as the necessary timeline. But you don't have to.
Thanks to advancements in the Invisalign technology and other advancements in orthodontics, your aligner changes can happen every 7 days max, or even less.
That's a big deal when you consider it slices the amount of time you wear each aligner by half. That's 7 days saved for each aligner set in your treatment plan. With only 40 sets (some people have more), that's already 280 days saved in treatment!
With the help of OrthoPulse, you might be able to save even more time than that. And we'll be monitoring your progress every step of the way. It's just another way you get more value for your Invisalign cost than at other orthodontists in Phoenix, Chandler, Peoria, and Scottsdale.
All this means that progress happens much more rapidly. If you're looking for the best Invisalign smile in Phoenix, results like this should be what you're looking for.
Bonus Factor: Patient Reviews
There's one more thing we always recommend you look for – positive reviews from patients.
It's one thing to say you do all or some of these things, but it's more important that your orthodontist actually does them for you during Invisalign treatment.
Reviews from past patients will help you get a good idea of what to expect.
Most orthodontists will include reviews from patients right on their website, and this can help you to get a picture of what to expect. But a pro tip from us: don't just look on the doctor's website. Check their business listing on Google (for instance, here's ours).
The reason being – reviews on Google are outside the control of the orthodontist. Yes, they can encourage patients to leave them a positive review, but they don't get to have any say ultimately in who leaves a review, what they say, or which ones show up.
On their website, doctors can choose the best reviews. On Google, you get all of them. So you get a much more complete picture of what people felt about their experience.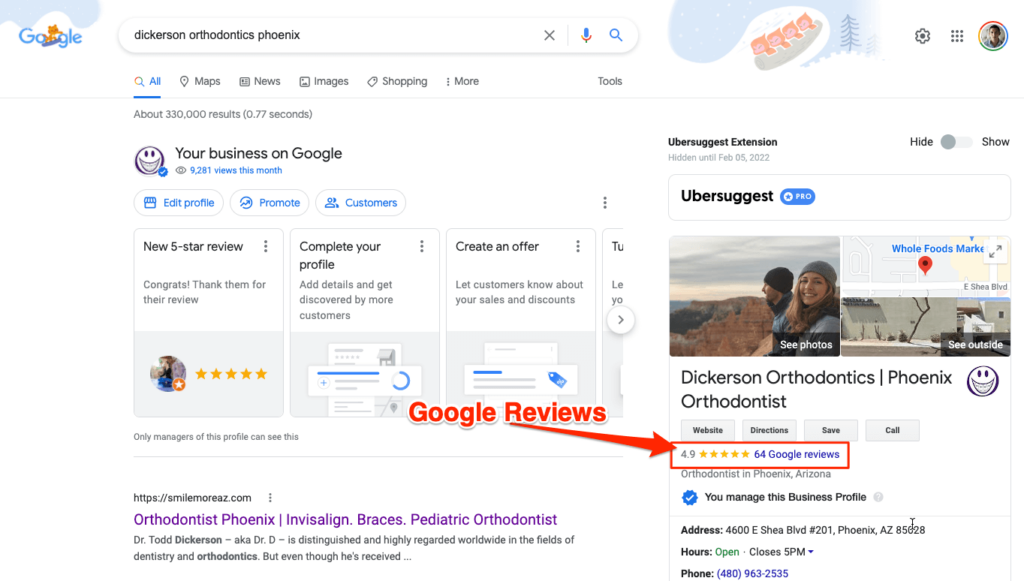 In the right-hand panel, just underneath the links to the website and for directions, you can find a reviews rating and a link to view reviews. (Here are our reviews.) Our recommendation is to always check those out before you choose a doctor.
Best Invisalign in Phoenix: Conclusion
If you want the best Invisalign treatment in Phoenix for fast results, make sure you're looking for:
A doctor who offers OrthoPulse
A place that reduces your appointments (that's right, we said reduces your appointments!)
An Invisalign plan that has you switching aligners in 7 days or less
If you're talking to a doctor who isn't offering you any of these things, chances are you might be able to do better.
Get your treatment from the orthodontist that teaches other orthodontists. Dr. Dickerson has lectured in North America, Europe and Asia teaching orthodontists how to deliver people like you great results with Invisalign way, way faster than the average.
Before you make a final decision, we'd love to talk with you.
Initial consultations with us are completely free, so it won't cost you anything and you can leave confident in a plan that will save you time, effort, and possibly money down the road.