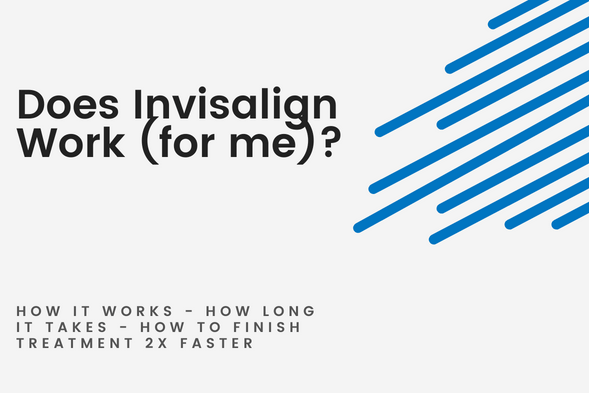 Does Invisalign work?
For many patients considering Invisalign for treatment, this is the key question they want answered. You might feel the same. And we don't blame you.
Sure, it's great that Invisalign is clear and discreet. It's nice that the aligners are removable. It's a benefit that they're more comfortable than braces and there aren't any eating restrictions during treatment.
But at the end of the day, you're getting Invisalign to have a great smile. So if they don't work, all of the other stuff doesn't matter very much.
We wrote this post to answer your questions.
There are a lot of myths out there about Invisalign, so keep reading to know what Invisalign is, how it can get you a winning smile, and to answer that all-important question – does Invisalign work?
What Is Invisalign?
Invisalign is a type of clear aligner that uses gentle pressure to move your teeth into the ideal positions in your mouth for your best smile.
Unlike traditional braces which use metal wires and brackets to move teeth into place, Invisalign uses a series of clear aligners that are made custom – specifically for your teeth.
While braces are not removable at all during treatment, Invisalign aligners are removable for more enjoyable eating, drinking, and cleaning of your teeth while you're going through treatment.
The clear color and removability of Invisalign makes it an attractive option for patients who want a more discreet solution for owning their best smile or desire a more flexible treatment experience.
How Does Invisalign Work?
First, we always encourage you to check with an experienced orthodontist to see if Invisalign is right for you. We offer both braces and Invisalign as treatment options for our patients because we believe that both can be the best treatment option depending on your needs.
Find a doctor who will be honest with you about what will get you the best results.
Here's how Invisalign works.
You might have heard that Invisalign is only good for minor cases, but that's an old myth now. The reality today is that, in the right hands, Invisalign can treat essentially any case that braces can – regardless of complexity.
When you decide to proceed with treatment, your doctor will take impressions of your teeth and use them to create your customized aligners.
Your Invisalign treatment will likely include many sets of aligners. Each set will progressively move your teeth into their ideal positions, in very slow increments.
Many places online, you might find sources that say you'll change your aligner sets about every 10-14 days, but this is just a generic average that many doctors use. Most patients at Dickerson Orthodontics change aligners sets much faster -often twice as fast. Get a free consultation today to learn more.
As you replace each aligner with a new one, your teeth will move little by little until they are straightened. The entire process usually takes between 9-18 months, but you can finish much faster at Dickerson Orthodontics.
(Also keep in mind that treatment times vary depending on the severity of your case.)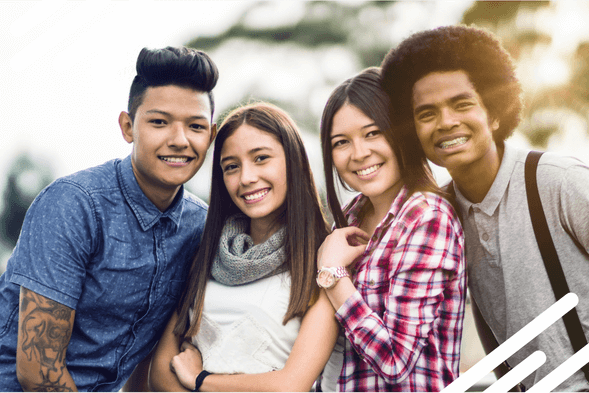 Are there benefits to using Invisalign over traditional braces?
Yes! One of the major benefits of using Invisalign is that they are practically invisible when worn, so most people will not even know that you are straightening your teeth.
They are also removable, so you can take them out for eating and cleaning. This comes with the extra benefit of no food restrictions – a fan favorite with all of our foodie patients and wine or coffee enthusiasts.
You can also brush and floss normally – something that can be difficult with traditional braces.
In addition, because the aligners are made specifically for your teeth, they tend to be more comfortable than braces.
How Long Does Invisalign Treatment Take?
The average Invisalign treatment time at most orthodontists is between 18-22 months. Most patients at Dickerson Orthodontics finish Invisalign treatment about twice as fast. If you're looking for fast treatment with Invisalign in Phoenix, chances are you'll be able to finish Invisalign in about half the time at Dickerson Orthodontics.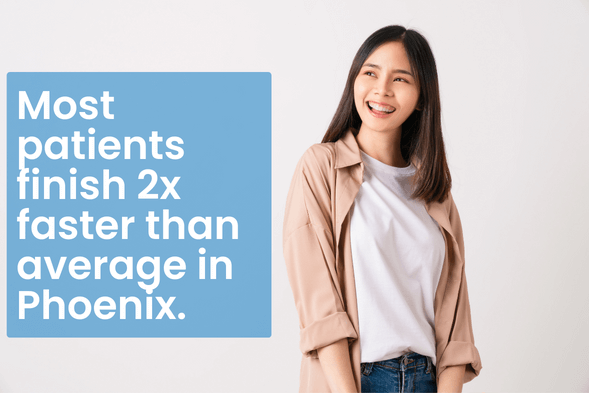 Here's another thing a lot of patients don't realize – your average number of appointments during treatment at most places in Phoenix will be about 24 appointments.
That's a lot of time your treatment is costing you! A lot of school your kids will miss, or work that you'll miss. Vacation days you'll have to use. All that time adds up in the form of costs to you.
At Dickerson Orthodontics, patients enjoy an average of about 11 appointments during treatment. Less than half what you'd be required to attend elsewhere. You'll save a lot of time just in the appointments you'll avoid.
If you're curious to know exactly how long Invisaign treatment will take for you, here are some of the key factors that determine length of treatment.
Factors That Determine How Long Treatment Takes:
The complexity of your case – some issues are more severe or complex than others. This is a big factor on your length of treatment.
Expertise of your doctor – the best doctors can accomplish great results much faster than most Invisalign practices. 
Your motivation- if you are highly motivated to do the work, you may see results more quickly than someone who is less motivated.
Does Invisalign Work?
And now back to the key question – does Invisalign work?
Invisalign does more than work for getting your best smile, it also:
Works today for essentially all cases, regardless of complexity
Is capable, with the care of expert, of getting you results faster than average Invisalign patients (aligner changes in less than a week instead of 10-14 days)
Can complete your treatment twice as fast (at Dickerson Orthodontics)
Saves you time during treatment by requiring fewer appointments
So yes, Invisalign works very well!
Come in for a free consultation today at any of our 4 locations around Phoenix – Phoenix/Paradise Valley, Chandler, Scottsdale, Peoria/Arrowhead – and we'll make sure you walk away confidently knowing exactly what Invisalign can do for you, commitment-free!