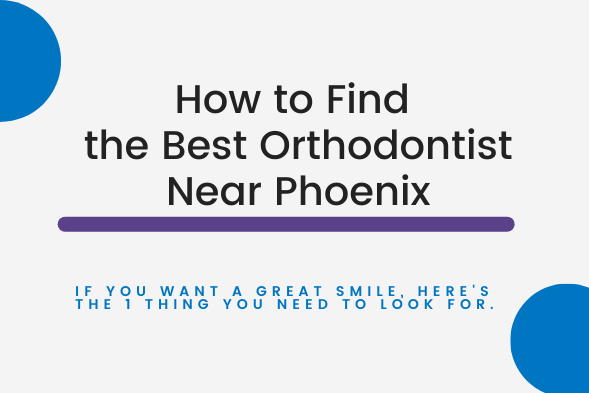 There's a really simple way to know that you've found the best orthodontist near you for getting a winning smile and great results for your teeth.
Here it is: find a doctor who offers you fewer appointments and shorter treatments than the average treatment time.
It's a simple shortcut to know you've found an orthodontist near you that cares about delivering great results fast, and putting your well-being first.
If you care about finding the best orthodontist for straight teeth and results, look for one who offers the combination of shorter treatments and fewer appointments.
Ok, wait – is that even possible? Fewer appointments and shorter treatment? It sure is. And we're certain of it.
It's what you get at Dickerson Orthodontics, where our patients consistently enjoy treatments that are shorter than average for their case – sometimes even half as short.
Most of our patients in Phoenix, Chandler, Scottsdale, and across the Greater Phoenix area finish treatment about 50% faster than average treatment times and they enjoy fewer appointments during treatment than most orthodontists near Phoenix recommend for their patients.
If you're wondering how all of this is possible and if it applies to your specific case, we get it.
​​The best way to find out is to get a free consultation with an expert right now.
We believe getting your winning smile should be as accessible as possible, so we've done away with initial consult fees completely. Come in to see what your smile can look like after treatment and to find out what your customized treatment plan could be – all for free.
If you're looking for more explanation first before you move forward, keep reading. We'll unpack the special formula for you here.
Fewer Appointments
You have better ways to spend your time than sitting through another appointment with your orthodontist. Don't worry, we get it. Just like us, your time is valuable.
Unfortunately, orthodontic schooling and old ways of doing things have led a lot of doctors to forget about the value of your time – for the sake of the status quo.
What separates the best orthodontists is how they acknowledge your significance and honor the value of your time.
Dr. Dickerson is one of the leading researchers on faster safe treatment. He has lectured around the world showing orthodontists how to best complete orthodontic treatment faster in fewer appointments.
Unfortunately, all that time some doctors ask you to spend in check-ups and appointments doesn't necessarily lead to faster results or shorter treatments. In fact, more often, it can slow down progress because progress becomes dependent upon you coming in for an appointment.
The best orthodontists know that a lot of your progress happens without you needing to come in for an appointment. Orthodontic technology has improved dramatically in the last 10-20 years, and patients like you can now go much longer between appointments without experiencing any decrease in progress.
It also means that if you travel for work, or your family goes on a vacation, your treatment seamlessly continues on the road, too!
Shorter Treatment
Did you know that studies show orthodontic patients generally start to lose motivation and commitment for treatment after 10 months?
Sadly, the length of an average orthodontic treatment lasts over twice that long – 22-24 months.
Doesn't it seem like something is wrong with that picture?
We sure think so. And that's why we've done everything possible to design a treatment process for our patients that actually works for them. At Dickerson Orthodontics, many of our patients finish treatment in closer to about 1 year.
Even more of our patients experience treatment lengths for Invisalign and braces that are about half the length of what their treatment would be somewhere else in Phoenix.
At Dickerson Orthodontics, some of the same proven technology that we use to shorten your treatment time also reduces the discomfort you'll feel along the way.
The best orthodontists know the difference that a shorter treatment makes – both for your schedule and your smile. Don't settle for a treatment that takes about 2x longer on average. Find an orthodontist near you who delivers better.
If you're in Phoenix, Scottsdale, Peoria, or Chandler, you can find just that when you get a free consultation today at Dickerson Orthodontics.
Best Orthodontist Near Phoenix: Conclusion
Many patients assume that more frequent appointments gets them to their winning smile faster. That's simply not the case.
But there's really good news: you can enjoy fewer appointments and still get faster results.
Now you know the secret to finding the best orthodontist near Phoenix for results. Don't settle for the status quo and end up forced to endure a treatment 2x longer than you need.
Avoid long treatments and endless appointments, and instead, choose to get your teeth straightened faster.
If you're ready to see results faster and enjoy fewer appointments, get a free consultation at Dickerson Orthodontics.
We'll give you a customized treatment plan for owning your winning smile faster with fewer interruptions to your life. It's as simple as that.